29.4765779
-81.2672732
Thunder Gulch Campground
Close
a
b
c

29.4765779
-81.2672732
Thunder Gulch Campground
Close
Weather station: Flagler County Airport, Palm Coast FL
Mostly Clear
Wind: 4 mph WNW
47.5°F
High Today: 47°F
Low Today: 47°F
Feels Like: 46°F
Humidity: 84%
Pressure: 30.09"
Rain Today: 0"
More Info
Forecast for Saturday
Mostly Sunny
Warmer. Mostly sunny. Highs in the upper 60s. North winds 5 to 10 mph shifting to the northeast in the afternoon.
Forecast for Sunday
Partly Cloudy
Partly cloudy. Highs in the mid 70s. Light winds becoming east 5 mph in the afternoon.
More Info
Thunder Gulch Campground

Print This
2551 North State St
Bunnell, FL 32110 US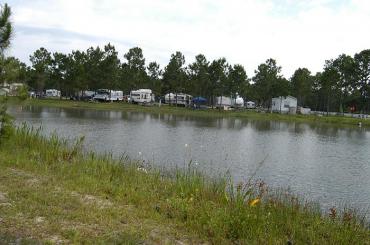 Amenities



















Primary Number:
(386) 437-5568
GPS:
29.476578,-81.267273
Standard Rate:
$29.00-$44.00
Freedom Rate:
$21.75-$33.00
Dates of Operation:
Year Round
Directions
1 mile North of Bunnell, on US 1.2 miles North of SR 100.
Notes
Rates are for 2 people, addtl $8 night/$55 monthly charge per person. Addtl charges: Extra water usage-$3 to $36 based on bike/car/RV. Dump station(non-registered)-$20. Water fill-$10. Showers-$8. Storage: 10x20-$35, 10x25-$40, 10x30-$45, 10x40-$50; Campers=$5 off. Washer/Dryer-$55. Refrigeration-$25. Lounge/Restaurant & Flea Farmers Market on site.