49.013201
-57.578764
Main River Safari Outfitters
Close
a
b
c

49.013201
-57.578764
Main River Safari Outfitters
Close
Weather station: ,
Main River Safari Outfitters

Print This
56 Midland Row
Pasadena, NL A0L1K0 CA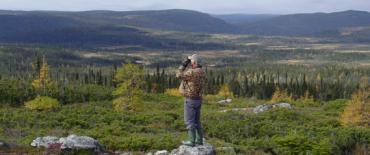 Accommodation
Cabin, Lodge,
Hunt Types
Bear, Big Game, Caribou, Moose,
Amenities
Fireplace, Hunting, Airport Transportation, Guided Trips, License Provided, Meals Included - Breakfast, Meals Included - Evening, Meals Included - Lunch, Meat Storage,
Primary Number:
(709) 686-2325
Dates of Operation:
Mid Sept - Mid Oct
GPS:
49.013201,-57.578764
Description
We presently operate two sites (12 mi apart) in a remote fly in area about 50 mi from our home base in Pasadena. Lodges located approximately 4 mi from the boundary of Gros Morne National Park, a NO HUNT ZONE. Lodges are fully equipped. Our hunts are fly-in only by helicopter with no pressure from local or other hunters. We normally book 3-4 hunters a week at our main lodge for a total of only 15 per season and 2 per week at our second lodge for a total of only 8 per season. The success rate for last season was 90% for both Moose and Caribou. This low hunting pressure greatly improves the quality and success of your hunt. Packages include goods service and hospitality, boats and motors, delicious home cooked meals, one on one guiding, licenses and transportation between base and lodge. Package rates include 1 on 1 guiding, full time cook, license, taxes and transportation of game and trophy to the butcher. Guides are well seasoned and familiar with our area. Gear should include a layered system of clothing to accommodate a wide range of temperatures and conditions (freezing at night or early morning, sometimes increasing to mid fifties by midday early in the season, and rain is not uncommon in late Sept and Early Oct) Total gear weight should be kept to about 60 lbs. To get here, flights can be made from anywhere in the USA to connect with Air Canada in Montreal or Toronto going to Deer Lake, Newfoundland, which is only 15 mi from our home base. Excursion fares generally work out to be much cheaper if made well in advance through your travel agent.
Directions
Please call for complete directions.
Notes
Rates: 1 wk/1 animal:Caribou/Moose $5000, 1 wk/2 animal:Moose/Caribou $6000, 1 wk/3 animal:Moose/Caribou/Black Bear $6500. Non-hunting guest:$1000. Rates are per person & include hunting license & guide fees, flying by helicopter to & from lodge, & transportation of your game/trophy from the bush to cold storage. Deposit reg, $500 if booking 1 yr or more in advance or an addtl deposit of $500/single or $1000/comb hunt is required by Feb on the yr of your hunt. The remainder is payable upon arrival. Personal checks may be used for deposits, but final payment is due by cashier or travelers check. In the event of cancellation license & deposit may be transferred to another & deposits are honored the following year.